The Results That Matter Team bases its methodologies on research on best practices in communities and organizations in the U.S. and abroad whose innovative leaders have used new ways to strengthen management and governance, engage residents, and harness the power of data to improve the quality of life.  Effective Community Governance (ECG) is the core of our research base, which influences all the strategy management, performance management, collaboration, and community engagement tools we offer. We also provide training and consulting in ECG practices.
ECG is a set of practices that help people and organizations become more effective at improving communities. When community leaders, public and nonprofit managers, and citizens use these practices to their fullest, they not only achieve one-time benefits; they also foster a continual cycle of community renewal and improvement.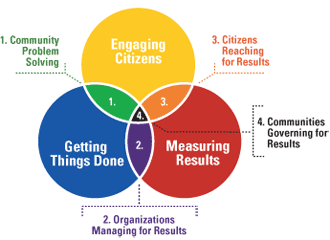 Effective Community Governance Model
The ECG Model and practices were published in the book Results That Matter (Jossey-Bass, 2006), based on eight years of research that began with a project funded by the Alfred P. Sloan Foundation.  We continue to add to our research base by capturing exemplary practices from communities in the U.S. and abroad, including those where we provide assistance or conduct fieldwork.
More Information on the ECG Model and Practices
Project Highlights
With our partner the Siberian Civic Initiatives Support Center (SCISC), we created a project funded by the Charles Stewart Mott Foundation to pilot Effective Community Governance in Russia.  We provided extensive ECG training and consulting to government and NGO leaders from six communities who implemented

projects to improve their communities and reform their governance systems

.
With our partner the KH Consulting Group, we used the ECG Model and best practices to evaluate Los Angeles County's first multiagency "Community Enhancement Team" (CET) to help the County improve how CETs engage residents, improve services, and enhance the quality of life in the mostly-low-income, unincorporated areas they serve.
We used the ECG Model to guide the Hartford Public Library through an assessment of its performance management and neighborhood involvement practices. Using this process, the Library determined that it could empower residents with quality-of-life information, and started a community indicators project.
We provided seminars in Effective Community Governance in Kiev, Ukraine, for members of the National Association of Regional Development Agencies (RDAs) who came from across the country. We also provided specialized support to RDA Donbass, a pioneer of citizen engagement in Eastern Ukraine.
For the U.S. State Department, we conducted workshops on citizen engagement in social and economic development on two multi-city tours in Indonesia and Thailand.  In the workshops, participants compared the "citizen roles" of Effective Community Governance with existing practices in their communities, to determine what new practices they could attempt to accelerate community and service improvement.
Selected Clients
Los Angeles County Public Works Department and Chief Administrator's Office
Hartford Public Library
Local Initiatives Support Corporation
Community Indicators Consortium
Charles Stewart Mott Foundation
Siberian Civic Initiatives Support Center
National Association of Regional Development Agencies
U.S. Department of State