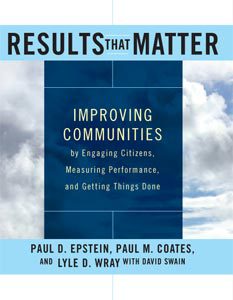 "The authors demonstrate that results-based governance and citizen engagement not only enrich community improvement efforts, they are necessary ingredients for success."
— Michael Rubinger,
President and CEO, Local Initiatives Support Corporation
"Results That Matter adds real substance to the discussion of how government can deliver the results citizens want at a price they are willing to pay."
— David Osborne, co-author of
The Price of Government and Reinventing Government
Improving Communities by Engaging Citizens, Measuring Performance and Getting Things Done
By Paul D. Epstein, Paul M. Coates, and Lyle D. Wray with David Swain
Read Chapter 1
(by permission of Jossey-Bass, a Wiley imprint)
Order the book from amazon.com (hardcover, paper, or kindle) or wiley.com e-book or paperback
Jossey-Bass/Wiley, November 2005 (© 2006), 227 pages
ISBN: 0-7879-6058-6
---
Results That Matter presents the new Effective Community Governance Model that brings together valuable tools of community improvement—especially performance measurement and citizen engagement—to empower communities to achieve the outcomes their citizens most desire.
Government and nonprofit managers, civic reformers, and community leaders and activists will learn not only how to achieve one-time improvement of their organizations and communities but also how to foster a continual cycle of community renewal and improvement.
Improving How Communities Improve Themselves
Results that Matter features examples, including case studies, from 30 communities and organizations across the country including self-improvement practices of effective communities; new roles for citizens, community leaders, and organization staff; Managing for Results cycles in use in organizations; and Governing for Results cycles in use in communities.